"It would be nice if we could produce our way out of this problem, but it's just not possible. We only have 3% of the world's oil reserves. We could start drilling in ANWR today, and at its peak, which would be more than a decade from now, it would give us enough oil to take care of our transportation needs for about a month. As a result, every single hour we spend $18 million on foreign oil…Budding democracies, despotic regimes, or havens of terror—they get our money because we need their oil."— Senator Barack Obama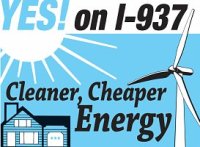 Global warming, a diplomatic strategy dictated by a dependence on foreign oil, and a desperate need for the creation of high paying jobs—when so many problems point to the same cause, namely our country's failed energy policy, it is time to revalue and change course. Washington state will soon have such an opportunity. A yes vote for I-937 is an endorsement of a forward thinking energy policy that puts people and the environment first.
Here is the problem: Washington State is growing and needs more power. We have the choice to continue down the old path of burning more coal and damming more rivers or we can start to take seriously proven alternative energy sources. I-937 will require that 15% of our energy comes from clean, renewable sources like wind and solar by 2020. This is an easy to reach target. I-937 also ensures that utilities help their customers save money through energy conservation. Here are some other points to consider, provided by the Yes on I-937 fact sheet:
Energy efficiency is the cheapest energy source available. Energy efficiency programs run by utilities help rate payers and businesses save money on their monthly bill.
Renewable energy strengthens family farms. Landowners can receive up to $5,000/year for each wind turbine on their property.
The energy efficiency and renewable energy industries already provide more than 4,000 jobs in this state. I-937 would create thousands more.
We need to adopt a pro-knowledge mind-set, which Alvin Toffler defines as "a ravenous hunger for the latest information, new ideas, skills." Toffler argues that knowledge is the most important resource. Advancing knowledge allows us to do more with less and provides the opportunity to shift power away from bulk producers of resources or increases our ability to create substitutes for these imported goods altogether.
It is time to invest in our own infrastructure and the talents of our people. Let's start with a yes for I-937 on November 7th.
Update: Here is some additional information from the Union of Concerned Scientists. Their new analysis shows that by 2025, Washington customers would save four dollars a month off their average electric bill. According to their research, the initiative would create over 1,000 new jobs, spur over $138 million in additional state income, and reduce as much emissions of heat-trapping carbon dioxide as taking 750,000 cars off the road. Through utility conservation requirements, the law would also save enough energy to meet the needs of 720,000 homes.