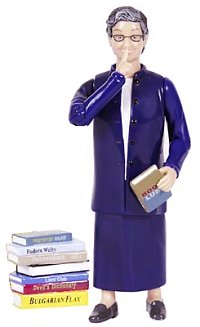 Nancy Pearl is a bit of a cult figure in Seattle. For a city known for its love of coffee, movies, and books, it would make sense to have one of its librarians celebrated with an action figure. Seattlelites can be a slightly wonky bunch.
The nationally recognized program, "If All of Seattle Read the Same Book" was her idea. Nancy also reviews books for Seattle's NPR affiliate KUOW and interviews authors on Seattle's cable television network. In addition, she has written two reader guides which tap her rich experience as a librarian and a life long lover of books.
Nancy Pearl is the rare person who has turned a passion into a career. If the economy of the future is based on knowledge and imagination, I think she is one person to watch.