"We've all gone crazy lately, my friend's out there rolling around the basement floor." -from Someone Saved My Life Tonight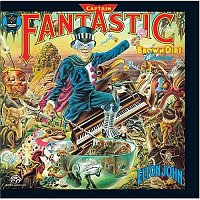 There were two loves of my life in 1975. One was the Portland Trail Blazers and the other was Elton John. My devotion to the Trail Blazers was rewarded with the 1977 NBA Championship. Elton gave me Captain Fantastic.
I finally threw out my scratched, ratty LP and replaced it with the digitally remastered CD. It is interesting to listen to this album with a mature ear.
The first thing to surprise me was how the music carries the distinct influence of the Beatles. Obliviously in 1975, I was too young to appreciate how revolutionary the Beatles truly were. By the time I discovered their music, the thought of a musical landscape without the Beatles would be considered ridiculous verging on blasphemous.
The song Tower of Babel has especially good examples of Abbey Road like guitar progressions and melodies. The track Bitter Fingers even features a little Wings era McCartney base playing.
Elton and Bernie Taupin have an almost perfectly balanced musical partnership. Gifts which come together to create a powerful concept album. Of course, Bernie Taupin explains it best with his lyrics from the title track, "Hand in hand went music and the rhyme."
I love you Elton John. Call me.
Here is track fourteen for the playlist: Someone Saved My Life Tonight by Elton John.