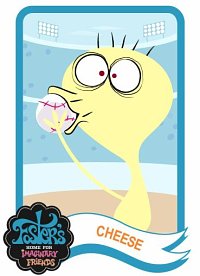 Mac is a nine year old boy who has an imaginary friend named Blooregard Q. Kazoo, or Bloo for short. Bloo is selfish and smart. He likes to break rules just to see what will happen. For reasons which are unclear, Bloo is not allowed to live with Mac. Instead, Mac has made arrangements for Bloo to live at Foster's Home for Imaginary Friends.
One morning Mac wakes up and there is a new imaginary friend in his bed–Cheese. Now, Mac has to break the news to Bloo. Bloo is none too pleased to have a new brother, one who would politely called challenged. Bloo is even more outraged to learn Cheese will now be living with him at Fosters.
Cheese is a work of art. He is the perfect balance of five year old selfishness and uninhibited imagination. Cheese likes cereal, chocolate milk, and bunnies. He likes to play cowboy and is lactose intolerant. He perfectly captures the oblivious selfishness of small children. It is hilarious to watch Cheese irritate the other characters. No one knows how to deal with Cheese. This is especially true for Bloo, who gets to experience a little of his own medicine.
Here is the funniest exchange between Bloo and Cheese when they argue over how best to paint the go-cart. If you like this, check out more episodes of Foster's Home for Imaginary Friends on Cartoon Network. I think this is one of the most imaginative and entertaining shows on television. Prepare to be inspired.