"They always say time changes things, but you actually have to change them yourself." –Andy Warhol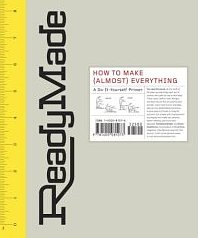 Two years ago BBC News ran an article on the Rise of the Anoraks which highlighted the growing influence of the Pro-Am movement in the global economy. Pro-Am is a term used to describe hobbyist who pursue their interests at a professional level. In the United States a more familiar term would be d.i.y or do-it-yourself, with an added twist. Instead of creating cut and paste posters at the copy center to advertise punk bands, these individuals are focused on pursuing innovations in astronomy or writing open source software.
Crafts and the ability to be handy are also making a comeback. Knitting is cool again. Nightly, Americans flip on the television to watch rides be pimped, semi-trucks tricked and spaces traded.
The tag line for ReadyMade magazine is: Instructions for Everyday Life. Each issue contains directions on how to construct projects which would appeal to the hipster crowd. The featured projects are broken down by cost, the materials and tools you will need, and an estimation of the level of difficulty. There is a special emphasis on the reuse of common objects and recycling these things into something useful.
So, if you are tired of adequate, want to drop off the grid, or give the finger to "the man", ReadyMade is a great place to start.