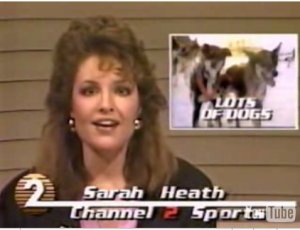 Here we go again.
After the drumming the McCain/Palin ticket took at the polls, not to mention the overall media wreckage left behind by Sarah "The Quitter" Palin, I thought we had seen the last of the Sarahs for a while.  Boy, was I wrong.
Instead, a Sarah Palin Replicant has popped up in the King County Executive race, as former local TV anchor, Susan Hutchison.  But don't worry citizens of King County, Suzie's views aren't extreme, they are just non-partisan.
See for yourself.
Susan Hutchison claims to support Sound Transit, which is great.  Unfortunately, this support quickly evaporates once Sound Transit gets all crazy and tries to build any light rail lines.
This is especially true for the East Link, and where things get tricky for King County Executive candidate, Susan Hutchison.  After all, 62 percent of the voters in King County voted to approve the East Link last November.  It's a popular plan and voters want it built.
What would those voters do if they knew Susan Hutchison was against rail to the East Side, and even better, is defending Kemper Freeman, her biggest supporter and anti-light rail crank, and his lawsuit to stop light rail from crossing I-90.
Who would they choose to be the next King County Executive, the official responsible for appointing 10 of the 17 positions on Sound Transit's board?  Dow Constantine, a champion for transit, or Susan Hutchison, the candidate who could make all of Kemper Freeman's light rail death fantasies come true.
I wonder.