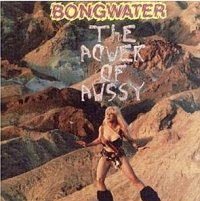 Lists are just fun. They are a slick way to present new information in user friendly chunks. With that in mind, I would like to introduce a new category to shiftingheat. I recently read a list of the top albums of the 1990's and that got me thinking about the CDs I bought during that period. Instead of rehashing the greats, why not latch onto the long tail and give some attention to the remarkable albums which were overlooked.
I now present for your consideration BongWater's fantastic work, The Power of Pussy. Have you ever head a song for the first time on the radio and you suddenly have your mission for the day– buy this album now! Well, Folk Song did it for me. I could not believe something so smart and wickedly funny would ever be played on the radio. In fact, I was just as shocked when I heard it again.
BongWater is the creative duo of Ann Magnuson and Mark Kramer. Ann wrote and performed the lyrics. Kramer composed the music. The Power of Pussy is the master work of two artists on the top of their game. These two inventive forces complement the other perfectly on The Power of Pussy.
Together Ann and Kramer have fashioned an album which approaches a work of art. Ann is the lord goddess of the expansive narrative packed with cultural references and outrageous situations from the American fringe. This type of musical monologue is very risky and often comes up short. Generally, these stories are unfocused, lack a larger meaning or worst still are down right boring. Offenses which usually irritate the listener and send the CD off to obscurity without a second listen.
As amazing as it may be, Ann nails it every time with The Power of Pussy. Over time each one of Ann's many riffs on the album becomes your absolute favorite and you can't wait for her to deliver the punch line. Kramer is Steve Stevens to Ann's Billy Idol. He takes lyrics which on their own seem silly and ridiculous and forces you to raise that lighter above your head and sign along. Who else gets a rational person to sing:
she said chimmijangas, chimmijangas, (chimmichangas) chimmijanges, she said chimmijangas, she said, chimmijanges she said, chimmijangas, she said she said she said
In addition to his catchy melody, Kramer strings each of the songs together using found recordings, snippets from answering machines and everything in between put to work in the style of a home tape collage. Each of the bits are funny and stand up to repeat listening. My personal favorite is a recording of an older man hopelessly stuttering over the name of the band. After all of that trouble, he announces, "The name of the band is BongWater."
What I like best about BongWater's The Power of Pussy is the assumption that music is an important part of our culture and albums could be made to provoke thought and be the topic of adult conversation. Who does that anymore?