"Dear Diary, my teen-angst bullshit now has a body count. " -Veronica Sawyer in Heathers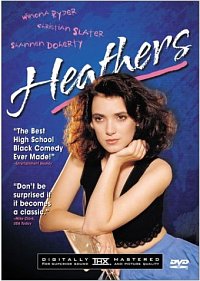 Heathers is the reason why, when Winona Ryder got caught during a shoplifting spree, it was news worthy. Heathers is the teen movie which pulls no punches; the movie John Hughes didn't quite have the stomach to make.
This is a black comedy of the darkest type. It is not for the squeamish or the bone-head who actually believes violence is the best way to solve a problem. Anyone who does not appreciate irony should look for their laughs elsewhere.
However, if you suffered or are suffering now through the insult which is high school, this movie is sweet nectar. Heathers will deliver a certain satisfaction for anyone who was harassed by their high school's version of a Heather, Kurt. or Ram.
But wait, there is even more to this under appreciated teen flick. Lurking underneath all of the 80's lingo and Bonnie and Clyde antics, lies an also Chomsky-esque analysis of institutional power.
One of the central themes of Heathers is that certain institutions, such as high school, create the perfect environment for unchecked power to blossom. In addition, the corrupting influence of this power is so great that it doesn't really matter who is on top.
Now, what's the up-chuck factor on that?