"Meatshake, when you are hungry and thirsty!" -from the song Abigail Silk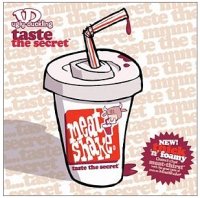 Last night, Super Size Me was on television. The movie reminded me of the brilliant album, Taste the Secret by the Ugly Ducklings.
The Ugly Ducklings combine Beck's clever word-play with a nerdcore worldview. Taste the Secret is a concept album which follows the escalating conflict between the fast-food restaurant, MeatShake and their rival, Veggie Hut, which is positioned directly across the street.
The album pokes plenty of fun at both sides of the meat divide.
All kidding aside, the group makes a great point: there is plenty of ridiculous behavior and room for improvement, both for the veggie loving crowd and the carnivores in our society.
To learn more, drop by your local Veggie Hut or Meatshake restaurant.