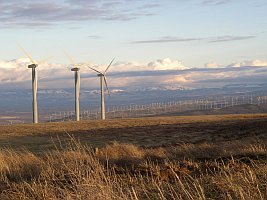 What better piece to follow Gore's national challenge to generate electricity carbon-free by 2018?
People all across America are tired of politicians caving in to special interests and settling on dangerous, out-dated, and ineffective solutions to the nation's energy woes.
No one better embodies this national sentiment than the heroic coal mining families in West Virginia, who are fighting a strip mine proposal which would effect over 10 square miles in the Coal River Valley.
Instead of accepting the inevitability of coal, the local community has boldly embraced the future and offered a counter proposal: The Coal River Mountain Wind Project.
Alternet has a list of the positives:
Consider this: The Coal River Mountain Wind Project would:

Create 200 local employment opportunities during construction, and 50 permanent jobs during the life of the wind farm. It takes only 35 years for a wind farm to provide a greater number of one-year jobs than the proposed four surface mines combined.
Provide 440MW or enough energy for 150,000 homes — indefinitely, as well as a sustained tax income that could be used for the construction of new schools for the county.
Allow for concurrent uses of the mountain, including harvesting of wild ginseng and valuable forest plants, sustainable forestry, and mountain tourism, as Coal River Mountain is one of West Virginia's finest mountains.
Preserve the historic Coal River Mountain heritage, and protect the land and communities from blasting, dusting, poisonous drinking water, increased flooding, damaged homes and personal property, and devastated wildlife habitat.