"We know the technology already exists to allow American families to drive any car they want and still save hundreds of dollars a year just by getting better gas mileage. It's time we ask for more from our cars and the companies that make them." -Senator Maria Cantwell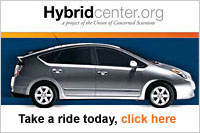 I have a serious case of Prius envy. While saving for the big purchase, I fulfill my need for hybrid generated speed by visiting a few great websites.
The first site is hybridcenter.org which is a project put together by the Union of Concerned Scientists. This is a great place to start if you are intrigued by hybrid technology but don't know a lot about it. Hybrid Center does a good job of explaining the technology and helping the consumer find a hybrid vehicle to fit their needs.
For my daily news fix, I like to visit hybridcars.com. This site has a number of high profile bloggers who follow the hybrid market closely and write about up-to-the-minute developments.
Of course, if I want to go hybrid car crazy, I visit greencar.com which has pictures and articles on just about every vehicle which uses an alternative fuel source.
Happy car hunting! Don't forget to honk when you see a black Prius zip past on some Seattle side street.