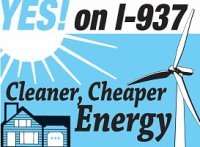 First, the utilities lobbied Washington State's  Department of Community, Trade and Economic Development (CTED), begging for rules which would allow each utility to implement I-937 as it saw fit, rather than meet the voter approved mandate of  generating 15% of their energy from clean, renewable sources by 2020.
Now, these same obstructionists have taken their case to the Washington State Legislature.
This time the utilities plan to weaken I-937 by allowing Washington's existing infrastructure of hydropower to count toward their renewable energy goal.
Once again, it's time for the voters of Washington State to speak up.  We must let our representatives know a weakened clean energy initiative is  not what we voted for when we approved I-937 in 2006.
The folks from Yes! on I-937 have a great summary of why this is would be a raw deal for the citizens of our state.
Legislators considering revisions to I-937 must hear now from the thousands of supporters who helped pass the initiative. We need to tell our legislators that we expect I-937's renewable and energy efficiency standards to be fully met or even strengthened, not diluted.
Tell you legislators to:

Preserve voters' intent through I-937 to increase development of new renewable energy and energy efficiency.

Keep Washington a leader in the national effort to establish a clean energy economy.

Protect the state's and Governor Chris Gregoire's single most important tool for curbing global warming and reducing greenhouse gas emissions.

Do not allow special interests that opposed the initiative at the ballot box to weaken the clean energy standards.

Click here to let your voice be heard.