"Change is inevitable. Growth is optional." –bumper sticker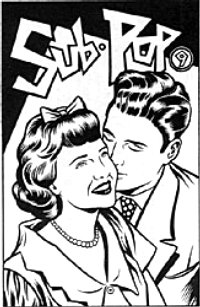 Starbucks may be the most famous, but REI and Sub Pop are two companies which also reflect the Seattle mind-set. Founded in 1938, REI is a consumer cooperative which sells high quality outdoor equipment, clothing, and footwear. Seattlites are know to have a certain style of casual dress–if you flip through an REI catalog you would get a good idea of what that might look like.
Back in 1989, Sub Pop was a scrappy little independent record label that released Bleach by some punks from Aberdeen who called themselves Nirvana. Today, Sub Pop is home to The Shins and Postal Service. All of which goes to show that styles may change but substance always has staying power. If you are are music lover, you owe it to yourself to explore the Sub Pop catalog.
Now, REI and Sub Pop have stepped up to prove creativity and a can do attitude are powerful tools in the fight against global warming. It's a smart approach.
According to the book Innovation: The Five Disciplines for Creating What Customers Want, innovation is process driven and can be broken down into five steps. First, a project should start by trying to tackle an important problem. Interesting is not enough. Second, after each step in the development process the end product should be evaluated in terms of actual value provided to the consumer. Third, every project needs a champion, a true believer who will fight to the death to make the best product possible. How to form the best development team round out the last two steps. Essentially, project teams should be created that are up to the task. Talent should be chosen based on the project needs not dictated by department distinctions. These teams should be flexible and able to generate new ideas on the fly.
Starting in January, REI Adventures will purchase renewable energy credits to offset the greenhouse gas generated by the air, water and ground travel associated with all of its travel adventure packages. In order to become carbon neutral, REI Adventures expects to purchase more than 52,000 green tags in the coming year, offsetting more than 36,000 tons of carbon dioxide. REI Adventures offers vacation packages to every corner of the globe. You can experience a wildlife safari in Tanzania, hike and cycle through Laos and Cambodia, or explore Antarctica on a small ship adventure. Now travelers can explore the wonders around the world without the environmental guilt.
Sub Pop Records has also taken the plunge and purchased enough green tags to offset all of the company's energy use. The Seattle label was the first Green-e certified record company in the United States.
REI and Sub Pop are both innovators who are tackling a huge problem and in the process giving the people what they want. Thank you for championing such an important cause. This type of forward-thinking corporate leadership will reinforce Seattle's authority as a leader in the struggle against climate change.
Starbucks was the first to create a recycled paper cup that met the stringent guidelines for food service by the FDA. Now, let's see what Starbucks can do to keep up the momentum and turn itself into a carbon neutral corporation.
Here is track twelve for the playlist: One Chance by Modest Mouse.