"Sometimes, the political system is like the climate system, in that it's non-linear. It can seem to change at a snail's pace and then suddenly cross a tipping point beyond which it shifts into a shockingly fast gear. All of a sudden, change that everybody thought was impossible becomes matter of fact. In 1941, it was absurd to think the U.S. could build a thousand airplanes a month to fight the Second World War. By 1943 that was a real number." –Al Gore, RS #1004/1005:713-274/06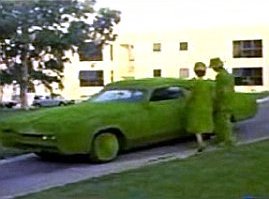 Like it or not, California sets the trends that the rest of the country follows. The state is nothing short of a cultural powerhouse. From the Lords of Dogtown to Proposition 9, California was there before the rest of us had any idea there existed. Now, California is taking on global warming and it just might be the kick in the pants which gets the rest of the country back in the game.
Global Warming Solutions Act (AB 32) recently became law in California. This legislative act is a gigantic step forward in the fight against global warning. California is the twelfth largest generator of greenhouse gases in the world. According to a press release from Environmental Defense,
AB 32 would limit the state's global warming emissions to 1990 levels by 2020, and institute a mandatory emissions reporting system to monitor compliance. It also would allow for market mechanisms to provide incentives to businesses to reduce emissions while safeguarding local communities.

Momentum and support from clean companies, venture capitalists, faith-based leaders and the public have been strong. The bill's opponents – representing old, polluting industries – have been sidelined by the steady drumbeat of scientific consensus that global warming is the world's most pressing environmental problem and that reducing emissions of carbon dioxide and other heat-trapping pollution is a feasible, cost-effective solution.
Using California's historic 2002 clean car standards as a blue print, the Washington State Legislature enacted similar legislation in 2005. Motor vehicles produce more than half of all the greenhouse gas emission in Washington State. Washington's clean car standards are patterned after the ground breaking California model which authorized the California Air Resources Board to set limits on passenger vehicle greenhouse gas emissions.
The Washington State clean car standards will apply to cars, light trucks, SUV's, and passenger vans starting in 2009 with full compliance by 2016. Based on estimates by the state of California, these new standards will cut emissions in cars and light trucks by 25 percent and 18 percent for SUV's and larger trucks.
Nine other states have adopted clean car standards. These states are Oregon, Connecticut, Maine, Massachusetts, New Jersey, New York, Pennsylvania, Rhode Island and Vermont. Together with California and Washington, this group accounts for over a third of the new car sales in the United States.
If the past is any predictor of the future, in a few years hipsters will be calculating their carbon load and bragging about the cool gadgets they are using to become carbon neutral. Stranger things have happened.
UPDATE: Here is an article from the Seattle Post-Intelligencer on the historic signing of the California legislation to limit green house gases.