"Fully 78% of Americans want Washington to impose a 40 mile per gallon (mpg) fuel-efficiency standard for American vehicles, according to a new Opinion Research Corporation (ORC) national opinion survey released by the nonprofit Civil Society Institute (CSI). " –Green Car Congress (11/21/06)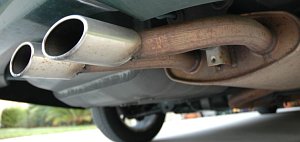 Americans want clean, efficient automobiles. It's really that simple.
Unfortunately, American automakers still aren't getting the message. Instead of developing clean vehicles based on off-the-shelf technology, the industry would rather continue to drag its feet and live in a dream world of unrealistically low gas prices, a stable international oil market removed from strife, and the belief that they produce a pollution free product.
Help the Union of Concerned Scientists get the message to Detroit: its time to stop the spinning and the suing and build the clean, efficient cars that Americans want. Click here, to help.