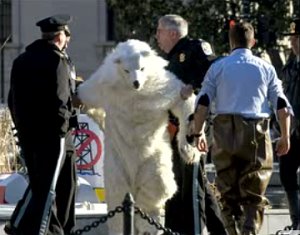 Hold it.
Is this the same Department of Interior which refused to list polar bears as an endangered species because it would force the U.S. government to finally regulate the country's CO2 emissions?
Oh yeah, and right this very moment isn't Interior Secretary Dirk Kempthorne trying to gut the Endangered Species Act because he is worried it could be used after Bush leaves office to limit the impact of greenhouse gas emissions to protect other species from global warming.
Hmm. If I didn't know any better, I would think the Department of the Interior was in bed with the oil industry.
Government officials handling billions of dollars in oil royalties partied, had sex with and accepted golf and ski outings from employees of energy companies they were dealing with, federal investigators said Wednesday.


The alleged transgressions involve 13 former and current Interior Department employees in Denver and Washington. Their alleged improprieties include rigging contracts, working part-time as private oil consultants, and having sexual relationships with _ and accepting golf and ski trips and dinners from _ oil company employees, according to three reports released Wednesday by the Interior Department's inspector general.
Never mind.