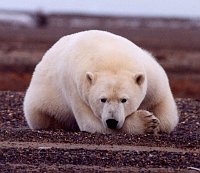 Now that time is running short, the Bush Administration is no longer content waging its guerrilla war against the Endangered Species Act.
Instead, Bush plans–once again–to circumvent Congress and gut the Endangered Species Act through an Executive Order.
The Defenders of Wildlife outline what is at stake:
The Bush/Cheney administration has just proposed sweeping changes to the Endangered Species Act that would roll back decades of protection and prevent federal agencies from trying to protect endangered species from one of the biggest threats they face – global warming.


This new proposal, much of which has been previously rejected by Congress, would allow federal officials to bypass current requirements for independent, scientific review of development projects. Instead, federal officials could decide for themselves whether new development would harm endangered wildlife – with the burden of accountability falling on citizens to file lawsuits.

Interior Secretary Dirk Kempthorne admitted that these changes have been proposed to make sure that the Endangered Species Act would not be used to regulate the impacts of greenhouse gas emissions to protect polar bears and other species from global warming. In fact, agencies would be specifically forbidden from considering a project's emissions and the effect those would have on wildlife and habitat.
If you oppose this latest assault on the Endangered Species Act, click here to tell Secretary Kempthorne to stop this back-door attack on the Endangered Species Act and the regulation of greenhouse gas emissions.