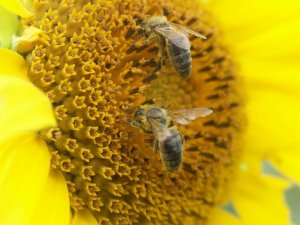 We all know the bees are in trouble right now, but the question becomes—what can you and I do about it?
Here is one way to help. Gretchen LeBuhn, an associate professor of biology at San Francisco State University, has created a citizen science project which is looking for volunteer bee watchers.
This is how it works. After registering at The Great Sunflower Project website, you will receive a packet of sunflower seeds, a growing guide, and a bee identification kit.
Once your planted sunflowers bloom, your bee watching duties will begin. Twice a month, for about 30 minutes each session, you will document how many, of which type of bees, are visiting your sunflowers.
After your data is recorded, you will submitted this information back to the study through the Great Sunflower Project website. Couldn't be simpler, right?
So, join me and other citizen scientists around the country this summer to do something for the bees. After all, bees are responsible for every third bite of food. It seems like the least we can do.